Luxury Modular Multipurpose Rooms
Art Studio | Home Office | Meditation Room | Home Gym | Gaming Room | Home Theater | She Shed | Man Cave | Pool House | Pet House | Yoga Studio
About LuxMods
LuxMods is dedicated to building easy-to-install world-class modular structures to expand your living space. All LuxMods structures are made with energy-efficient systems and industrial hemp-based organic building materials.
With over 30 years of experience in modular homes and energy efficient home solutions, our team has designed a modular construction process to save you money and eliminate the hassles of setup without sacrificing quality.
You can start using your LuxMods as soon as possible with our one-day installation or self-installation. There is no need to connect to the grid as each LuxMods structure is powered by Tesla's Powerwall technology and long lasting FreeVolt PV Graf solar panels. Permits are rarely required since LuxMods are not attached to a foundation, removing common hassles associated with construction projects.
Start today by selecting from our 4 LuxMods base models
Customize your space and get it shipped anywhere in the continental U.S.
Customizable Elements
3rd-party furniture & accessories

High-efficiency, low-voltage appliances

Entertainment (audio, visual, internet, etc) 

Exterior siding, lighting, and security systems

Roof-top decks 

Individual or licensed packages

iLamp smart off-grid lighting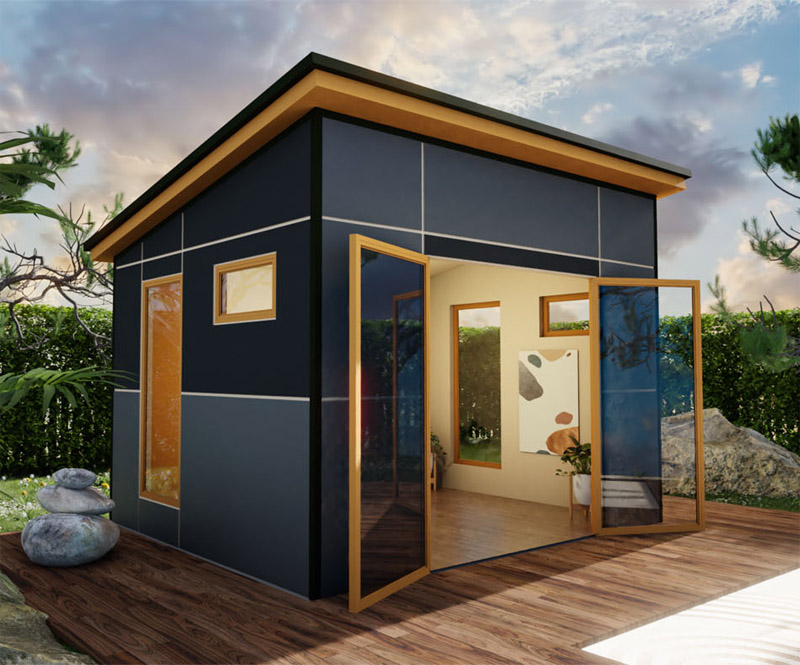 1
Select a layout and design the LuxMod that fits your best.
2
Pick Your Favorite Accessories to create your own experience.
3
Review your LuxMods plans with our team of specialists.
4
Complete order or apply for financing.
5
Delivery of LuxMods in (timeframe) from our facilities.
6
Installation in one day and you're done!
Got Questions? Let's Talk!
You are minutes away from your perfect, personal space. Get started and the LuxMods design specialist team will contact you.